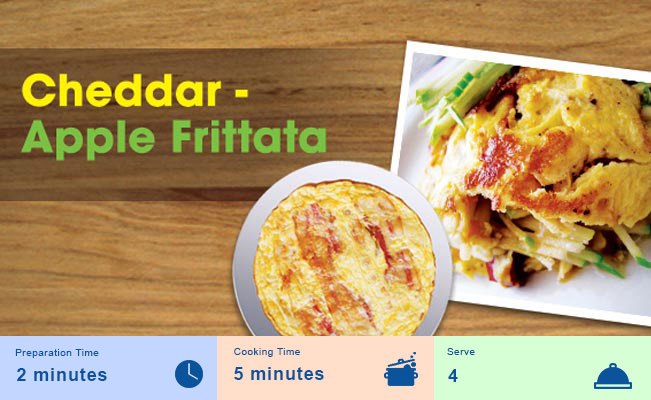 Ingredients:
2 tsp butter
1 apple, peeled and thinly sliced
4 eggs
2 egg whites
2 tbs water
1/2 cup shredded cheddar
4 strips precooked chicken bacon
Salt and pepper 
How to make:
1.  Preheat oven. 
2.  Melt butter over medium-high heat in a 10-inch oven-proof frying pan (e.g., cast iron). Add apple slices and sauté 1 minute, or until softened. 
3.  Meanwhile, in a large bowl, whisk eggs, egg whites, and water until frothy. Stir in cheddar, salt, and pepper.
4.  Put chicken bacon strips on top of apples. Pour egg mixture into skillet. Cook 2 minutes, until bottom and sides of frittata are set. (Resist the urge to stir!) Carefully transfer skillet to broiler and cook 6 inches from heat, 2 to 3 minutes, or until top is set. Cut into wedges.