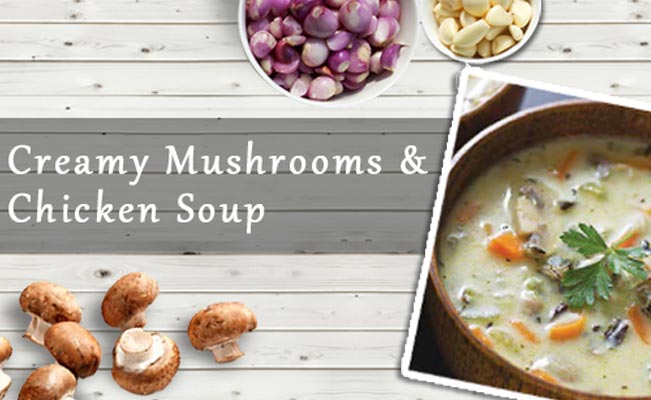 Ingredients:
Chicken broth - 6 cups
Chicken (boneless & diced) - 250gm
Mushrooms (thinly sliced) - ½ cup
Carrot - ¼ cup
Spring Onion - ¼ cup
Garlic (minced) - ½ cup
Butter - 3 tbsp
Flour - 3 tbsp
Sustagen milk - 1 cup
Heavy cream - ½ cup
Black pepper & Salt - to taste     
How to make:
Melt butter in a heavy-bottomed pan over medium heat and fry minced garlic in it. Add diced chicken and cook until chicken turns white and tender.

Throw in thinly sliced mushrooms and cook for few minutes. Make space in the bottom of the pan and add flour, stir till it get mixed with butter.

Add milk, keep stirring till it converts to a thick consistency liquid.

Pour in chicken broth. Add carrots and cook the mixture for 5 to 10 minutes till the soup acquires your desired consistency.

Season the soup with salt and black pepper. Add heavy cream and spring onion just before few minutes of turning off stove and stir well.

Laddle cream of chicken mushroom soups in serving bowls. Serve with sandwiches, bread of your choice or spin rolls for a complete meal.