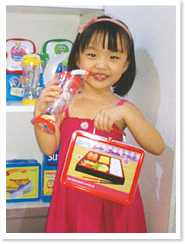 Member: Lau Li Ting
I'm a Sustagen girl and proud of it! Every morning when I wake up; when I come back from school and before bed, I have my Sustagen. I'm sure Sustagen is my right choice.
After taking Sustagen, I feel very energetic and active. My lovely mom always tells me that Sustagen will provide me with proper nutrition and calcium for stronger bones and teeth.
Thanks for Sustagen that keeps me company every day!