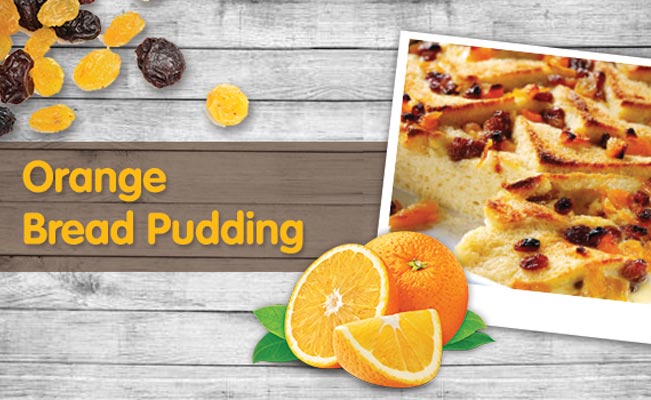 Ingredients:
7 slices white bread
4 eggs
300ml Sustagen Milk
120ml orange juice
65g sugar
1/2 tbsp grated orange rind
25g butter, melted
1/2 cup mixture of raisins, cherries and cranberries
Snow powder and apricot jam for dusting and glazing
How to make:
1.  Preheat microwave oven on Convection Mode to 180ºC.
2.  Remove the crusts from the bread and cut bread into cubes.
3.  Whisk together eggs, milk, orange juice, sugar and orange rind.
4.  In a greased baking dish, layer half of the egg mixture, then drizzle with half the melted butter. Sprinkle some of the mixed fruits over. Repeat layers.
5.  Place the baking dish onto a metal tray and bake on Convection 1 level at 180ºC for 35 mins or until a knife/stick inserted near the centre comes out clean.
6.  Before serving, sift some snow powder over pudding or brush top with some warm apricot jam for an attractive glaze. Serve warm.